WELCOME TO OUR TOWN
For county updates on COVID-19, please visit Rockbridge County COVID-19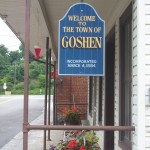 The Town of Goshen, located in Rockbridge County, VA, is 19 miles northwest from Lexington and 30 miles southwest of Staunton. State Routes 42 and 39 intersect at a point in town where picturesque Mill Creek meets the Calfpasture River, merging to form the Maury River. Centrally located to Lexington, Staunton, Clifton Forge, Warm Springs and Hot Springs. Approximately 400 residents now call the Incorporated Limits of Goshen home.
Goshen Pass, four miles from town, is a natural wonderland perfect for hiking, fishing, picnicking, kayaking, swimming, camping, photography and much more.
George Washington National Forest and Goshen-Little North Mountain Wildlife Management Areas border much of the town and are accessible by numerous state forest service access roads and hiking trails.
Goshen has had an interesting history as a resort town and industrial center and is a popular destination for genealogists, historians, and those simply seeking a quiet, slower pace of life. Come and enjoy!
This facility is operated in a nondiscriminatory basis with regards to race, color, national origin, religion, sex, familial status, age or handicap. Complaints of discrimination may be sent to the U.S. Secretary of Agriculture, Washington D.C. 20250